CONTACT

Creative Metalworks
Phone (301) 933-1500
Hours : By Appointment

Send us
E-mail

Copyright 1988-2018
Creative Metalworks
All Rights Reserved




The Liscum Bowl Restoration process

Originally the five toed dragon handles were lead soldered to the vessel with split posts and washers. The dragons were removed to enable their restoration.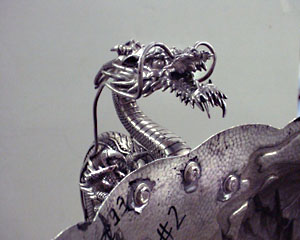 After the dragon handles were restored' "0 and 2 gauge" sterling silver bolts were created and silver soldered to the dragons to reapply them with silver washers and nuts.




This image shows a typical sterling silver patch where prior lead repairs had deteriorated the original silver beyond structural integrity.